If you have chosen wood carving as a hobby or your professional career, you need to know what kind of projects are suitable for you. The choices you make in this regard have to be based on your ability levels, the types of wood carving that you have picked on, and the kind of wood and tools you have at hand. Wood carving project for beginners should be simple to pull off and easy to handle So that it would not discourage you. Finishing projects can boost your confidence and make you want to push yourself and learn more. So if you are a beginner, our advice for you is to have patience because learning is a long process and does not happen overnight.
Try to practice simple projects as much as you can. The progress will follow your hard work. The following is the list of simple wood carving projects for beginners, improving their techniques and skills as a carver.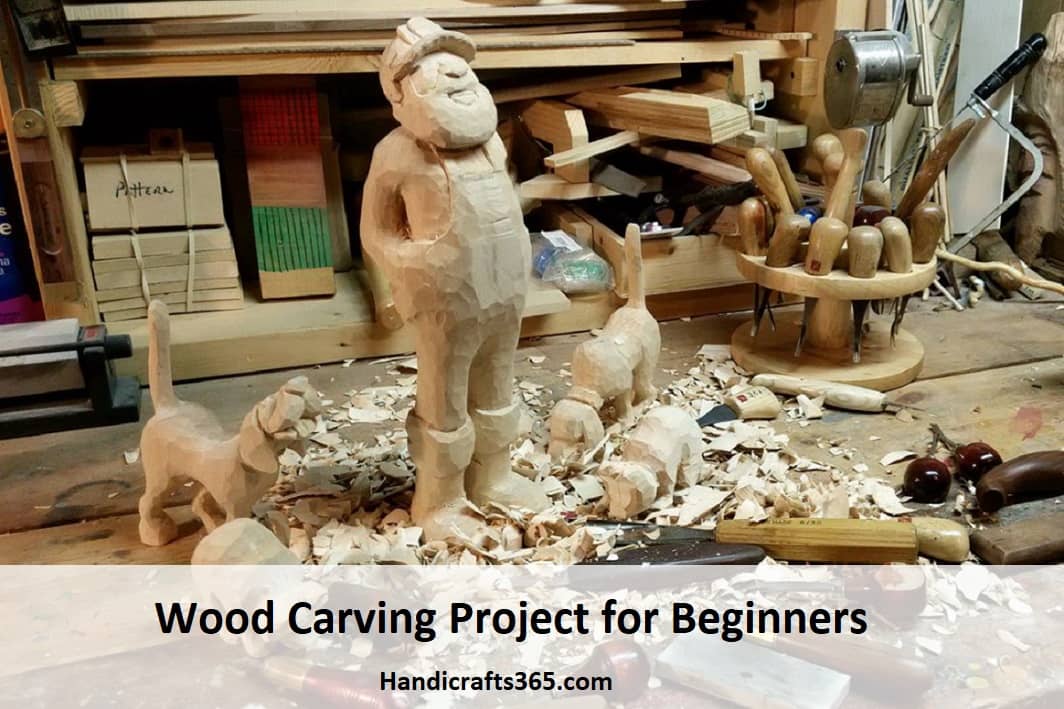 5 Best Wood Carving Projects for Beginners
Chip Carving Patterns For Beginners
If you are a beginner who has never held a wood carving knife before, chip carving patterns are the best design for you to start. If you look at the history of wood carving across the globe, you can see chip carving patterns existed in almost all cultures and civilizations. However, over time, it has gotten old-fashioned, so its popularity has declined drastically. Chip carving patterns are easy to find on the internet. These designs are perfect for beginners, especially those who do not know how to use a carving knife. The process involves you following a pattern or just freestyling. When you learn to apply chip carving patterns, you can create beautiful ornaments. Eventually, you start to feel more comfortable using the knife and confidence to create more complex designs. 
Spirit Carving for Beginners
One of the easiest and most satisfying wood carving project for beginners is spirit carving. This wood carving design is so much fun and can help you master handling the tools due to the facial expressions of the spirits. Generally speaking, the plan is not difficult, but the facial expression is more detailed and probably requires more attention and time. Your first attempts may totally fail, and that's ok. Keep trying until you can create an expression that you want. Not all spirit carving designs are simple. Some of them are intricate, so you probably need to gain more skills to handle those. But do not worry. You can add to the complexity of your design every time you feel like it is getting easy for you.
Gnome Wood Carving Patterns
Gnomes are cutes sculptures that people have been placing in their gardens for generations. You may think that making a gnome could be out of your ability range but don't give up so fast. Gnome designs are easy to apply, and they do not require various tools. You just need a carving knife and maybe a marker to draw the plan on your wooden block. Don't get discouraged if your first designs do not tend to turn out as you imagined.
The amazing fact about wood carving gnomes is that you start to notice your progress after making several of them. Compared to the first attempts, the most recent ones will have a noticeable difference, which shows how much you improved as a carver. Also, since you only need a carving knife for this design, you eventually learn many techniques using it during the wood carving procedure.
Spoon Carving Patterns
Carving spoons are among the wood carving project for beginners that can improve your skills. Making a spoon is an easy process. However, what you experience while you are carving spoons could add to your skills because of its delicate instructions. Many people suggest using hardwood for carving spoons, which could be challenging for beginners. On the other hand, we recommend using only green wood from apple, basswood, and birch. Green wood is much easier to use and lessens the chances of the knife getting stuck in the material, which could cause injuries, especially to beginners. For more information, read this article " Best wood for spoon carving ".
You may find spoon carving simplistic at first, but you add an important technique to your wood carving techniques by mastering it. Many people have done business by making wooden utensils such as spoons. You can add some chip carving patterns to your spoon and create a beautiful ornament.
Carving Small Animals
The next best step after trying the above designs is to try carving small animals. Carving small animals is so effective that it can improve your techniques and make you a professional carver. It is more complicated than carving sprits and gnomes because you need to combine several techniques to land the final plan. That is precisely why carving animal is so effective. The process includes generating a great many details to the work to breathe life and realism into it. Wood carving animals is such an essential wood carving project for beginners. Bear in mind that wood carving has no endpoint. It is an ever-ending process. Hence, you do not need to be a pro to start this project.
Benefits of Changing Wood Carving Project for Beginners
One of the things that could be helpful to you is changing your wood carving projects from time to time. For instance, if you think you are doing a great job creating sprits, switch to gnomes. Changing projects and trying unusual designs and instructions will add to your skills sets. Repeating a technique over and over again will improve your muscle memory. Therefore, as time goes by, you will find yourself more comfortable and capable of carving.
The better you become at applying techniques, the more confidence will be injected into your veins. Although it is vital to have excellent tools, it is only through practice that you can become a true carver.  The wood carving process can be a spiritual journey to teach you everything you need to know to become a creator. Someone who can make any designs and bring imagination to life. 
Suggested Articles Related to Wood Carving Projects for Beginners